Greetings from Vivid Snaps!
When planning for your big day, you will be searching for programmes to keep your guests entertained. An instant photo booth is a good option, and it has always been a popular hit at any wedding!
When you are about to engage a photo booth, you might search online for photo booth reviews and realise how little information you can find on Singapore photo booth vendors. In this blog post today, we will offer our perspective on what to look out for when choosing a photo booth for your big day!
Choose Your Favourite Print Size
You may already hold a ton of 4R photo booth prints from all the previous weddings you've attended. Why not go for something different at your wedding? A professional photo booth vendor should be able to provide you with various options for your print size. At Vivid Snaps, we provide 4R, card-sized and photo strip prints.
How Many Hours Should I Engage?
Our most common wedding bookings are 2 or 4 hours. Typically, our busiest times will be during the cocktail reception and after the first dish. Nonetheless, we will always recommend taking up 4 hours should budget permits. Extension hours are really affordable and there will always be guests slipping out to take a photo throughout the entire wedding celebration, so don't disappoint them! Ensure that you receive maximum value with our next tip.
Maximise Your Engagement Time
In order to ensure that you maximise your photo booth engagement, have your emcees announce about the photo booth and its operating times at regular intervals. So guests are always reminded to drop by and have their photos taken.
Does your guests receive their photos eventually?
There are already plenty of things to worry about on this busiest day of your life. The last thing you need is to hear your guests complaining that they did not receive their photos from the photo booth. Photos should be printed as fast as possible and effectively distributed to respective guests. With our SSD-fitted computers and fastest available lab quality photo printer, we are able to present the fastest possible instant photo booth in the market. Our staff are also dedicated to making sure your guests actually receive their photos. Why else would you engage a photo booth then, right?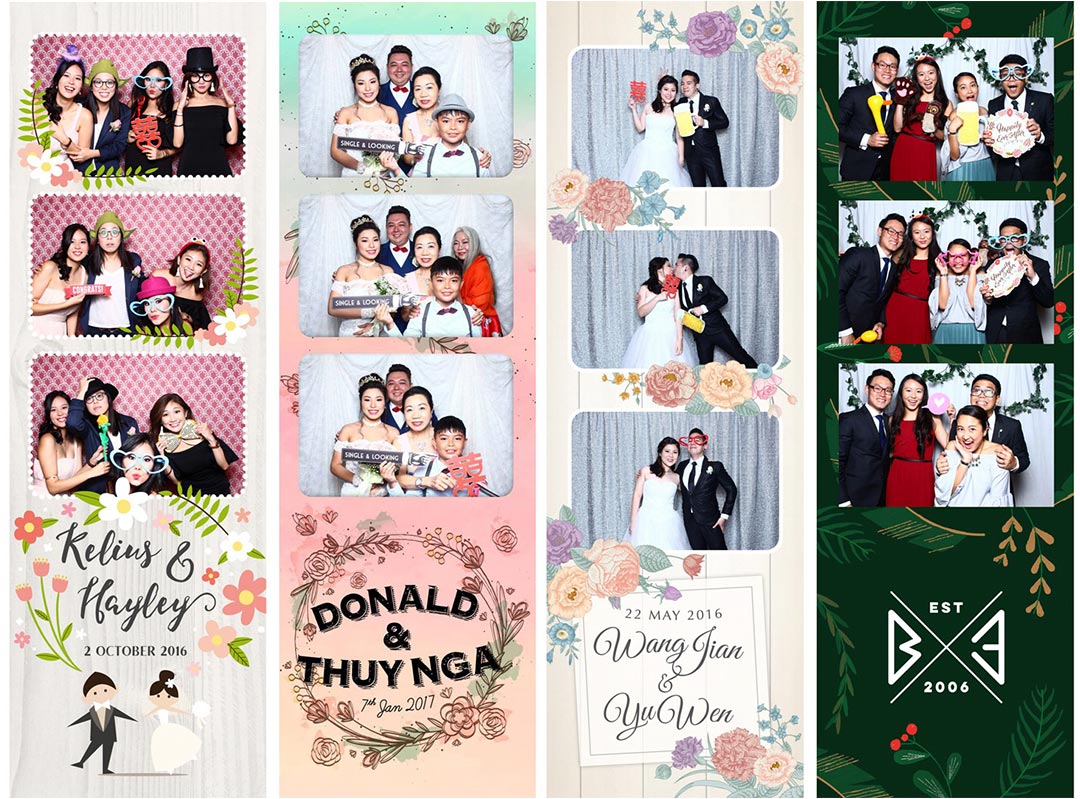 Customised Photo Border Design
Many photo booth vendors are experts in their craft, and they capture amazing photos. Beyond that though, you should also look at the next most important factor that makes the photo prints outstanding – the photo border design. A good photo booth vendor would have an in-house designer who can customise a unique design for your wedding.
Check with your photo booth vendor if they offer any special add-on for your instant photo booth. It is not a must, but who doesn't like freebies? At Vivid Snaps, our animated GIF add-on brings a second round of fun and excitement when your guests are viewing the photos after the occasion.
Appropriate Customer Service
Your esteemed guests deserves to be well-respected. Just as important as delivering high quality photo prints, your photo booth vendor should be polite and friendly to your guests.
Conclusion
By now, you should have a better understanding of wedding photo booths. We hope you will enjoy the journey of planning for your big day, and may your wedding celebration be the most precious memory of your life!
Vivid with Love Wedding Photo Booth
We have launched a new photo booth brand specially for wedding couple, head over to Vivid with Love to learn more about our wedding photobooth with boutique backdrop selection!
Corporate Event Photo Booth
For corporate and dinner & dance, contact us to discuss about your requirements or learn more on our instant photo booth page.